Scenic City Boot Camp & Transformation Center
Healthier Halloween CAN be Scary Good
It's the beginning of the impending holiday season.
*Cue scary screaming
That means treats, parties, family get-togethers, alcohol & packed schedules. That also means it's close to impossible to pursue your health and fitness goals this time of the year... right?
We say it's VERY possible and here's why...
This year, you have to do things differently. Stop thinking about "depriving" yourself of your holiday favorites but rather substitute them with healthier choices. (Choosing your health and well being over sugar & less healthy food as well as the health of those you love doesn't seem like deprivation to us though.... just saying).
Better Candy Choices
Halloween is literally right around the corner. And trust us when we say there will be PLENTY of sugar-filled candy giving out.
So how about something different? Something NOT sugar-filled....
I know what you're thinking... Sugar-free?!? That's so UN-Halloweenlike! But there are a lot of better candy choices you can be giving out this year for trick-and-treat day, too.
The biggest issue with Halloween candy (other than sugar) is high fructose corn syrup & GMO's (genetically modified organisms) (this just sounds gross). We want whole, real, unprocessed foods rich in fiber, vitamins, and all the good stuff.
So if you've made up your mind about giving candy, here are some better choices:
-Endangered Species individually wrapped chocolates
-Yummy Gummy Candies
-Annie's Gummy Snacks
-Trader Joe's Organic Pops
-Unreal candy
-Justin's Peanut Butter Cups
Here Comes the Switch Witch
The Switch who? The Switch Witch lives on the other side of the moon and man does she LOVE candy (it's honestly quite the problem). She loves candy so much she would trade ANYTHING (like toys) to girls and boys in exchange for their candy stash.
Your kids can choose to keep a little candy for themselves (it's still Halloween after all), but the more they give the Switch Witch- the better the toy will be.
*Cue "evil" parenting genius laugh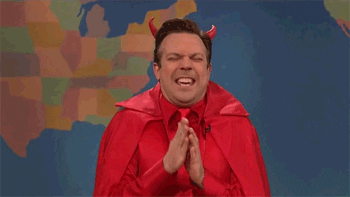 She eats the candy over the course of the year so ironically enough when Halloween comes around again, she'll need more candy.
Alternative name to the Switch Witch includes:
-The Candy Fairy
If she's coming to your house this year...
After trick-or-treating, allow your kids to pick five (or whatever number you deem fit) of their favorite pieces of candy. Place the rest on your front porch for the Switch Witch. In the morning, your kids have themselves a new toy! (Could also be a book or really anything your kids think is cooler than some candy).
The holiday season is such a wonderful time of year. Just remember it doesn't have to be centered around foods and treats. You CAN continue your health & fitness goals. You CAN have a healthier Halloween.